Červencové koncerty:
Boz Trio Live at Duende
Thursday 5  July at 8 pm!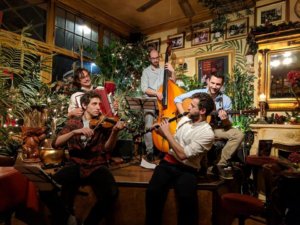 The Boz Trio's crew is made up of four musicians that will take you to distant shores, sailing across the deep ocean of the traditional music that takes its roots into exotic and faraway lands. During our exhibition you'll seat around a campfire with the cossacks in the russian steppe, you'll be moved by the jewish music's poetry, you'll dance restlessly to the catchy balkan tunes, and you'll be fascinated by the wierd greek rhythms. In just a few hours you are going to travel miles and miles, without pollution and with no need for travel documents.
https://www.facebook.com/events/1282351235229409/